Synergy Software Systems
P.O.Box 7780
303, Al Khaleej Building, Karama
Dubai, United Arab Emirates
Telephone:
+971 4 3374282
Fraxion Spend Management
Fraxion is a complete web-accessed spend management solution that provides innovative leaders with comprehensive tools to control and reduce operating expenses.

Customers are able to automate specific expense areas with best-in-class modules for Capital Expenditure, Travel & Expense, Purchasing, Petty Cash, Leave, Supplier Management, Invoice Management and a secure Payments Manager, all managed with our sophisticated business rules manager.

Together the modules provide an integrated foundation for complete operating expense control, systematic compliance, risk management and policy enforcement as well as a platform for sophisticated spend analysis. The solution provides real-time visibility and embedded controls over how a business spends its money, no matter where in the life of a transaction that expense is occurring, supports project budgeting as well as providing normal budgetary insight into all stages of commitments.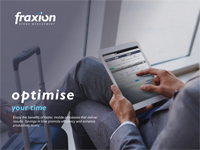 With Fraxion it is possible to not only decide what spend you manage, but also how you manage it.

From configuring approval channels and individual spend thresholds to setting quoters and different quoting rules.

Fraxion is fully configurable for every different type of spend.

The Fraxion engine also allows for custom modules that are as unique as the spending processes that they manage, that can be rapidly and easily configured by using the Fraxion Spend Management Model.
Our technology platform allows pioneering organisations to affordably control all operating expenses for the first time. The solution compliments and extends the functionality of our existing ERP or accounting software investments.

Our award winning technology is currently utilised by over 15,000 users to optimise organisational spend against budgets in real-time.

Spend management allows financial officers to become high-performers in savings by getting spend under management in all of the company's profit and cost centres. The savings that result from increased spend visibility, positively impact the company's overall financial performance.
Control
Compliance
Visibility & Analysis
Functionality General Purchasing
Spend under control equates to reduced risk.

A business's efficiency hinges on its ability to get things done in a timely and accurate fashion. By automating manual processes, the right data gets to the right people in the least amount of time and with the utmost control. Additional staff will not be needed just to manage spending processes. Fraxion offers total expense control automation for all spending activities. With the time, energy and money saved, organisations can focus resources into analysing and improving the business instead of chasing paper.

In short, we empower managers by delivering pertinent information with every transaction. With Fraxion, managers have the necessary data and tools at their disposal; when to buy an item, which vendor to order from, whether to approve an expenditure - it's all there, right on their desktop.
We ensure compliance by delivering:
Real-time visibility of transactions (and their budget impact) as they flow through the system.

Documentary evidence.

Limitless data storage.

Visibility of all receipts, by line item.

The ability to attach documentation to all transactions.

Control over vendor approval.

Visibility of altered permissions and objects via Audit History.

Visibility of Policy and Procedure information.

Risk framework at an individual level.

Compliance Automation (SOX 302, 404).
Where did the money go? And what are my expense forecasts going forward?

How much was spent with which suppliers by category?

What preferential procurement spending do I need to focus on?

Where am I most at risk of exceeding budgeted costs?

Where is the risk in terms of people?

Who is not compliant with my Travel and Expense (T&E) policy and what is the cost impact?
Capital Expenditure Management.

Travel Requests.

Expense Claims.

Leave Management.

Petty Cash.

Supplier Management.

Invoice Management.

Credit Note Management.

Quotation Management.

Receipting Management.

Payment Management.

Integrated Report writing.

Business Rules Engine.