Synergy Software Systems
P.O.Box 7780
303, Al Khaleej Building, Karama
Dubai, United Arab Emirates
Telephone:
+971 4 3374282

AppAssure - Backup & Disaster Recovery Software

Replay 4
Simply put, Replay 4 is the world's fastest way to recover from a server disruption AND the only disaster recovery solution with application-level recall for high pressure recovery scenarios.

Replay 4 is a server-based, disk imaging solution that automatically and continuously snapshots your entire Windows application server.


The Replay 4 products - including Replay for Windows, Replay for Exchange, Replay for SQL, and Replay for Hyper-V - are keenly application-aware and enable automated backup validation and object-level restore functionality.

When configured in a distributed environment with the Replay Cores installed in virtual or physical servers, Replay 4 creates a heart and lung by-pass machine for your mission-critical systems, to ensure these are available when and where you need.

What does that mean for you? Well, for one, it means your business will never lose another dime in lost productivity due to down servers. Our unique approach to backup combines the best features of the top imaging, replication, and deduplication software on the market today offering a 3-for-1 solution that guarantees continuous recovery-testing, seamless disaster recovery, always-on high availability, and significantly reduced storage costs.
Replay AppImage recovers your applications from any failure in minutes by continuously imaging the entire server.

Eliminate the backup window with 96 full point-in-time images a day. (Killer RPO.).

Allow users to access applications (including e-mail) during a live recovery. (Killer RTO.).

Reduce disk space with built-in data de-dupe and compression.

Recover entire application from bare-metal in just a few clicks.

Eliminate tape and tape infrastructure.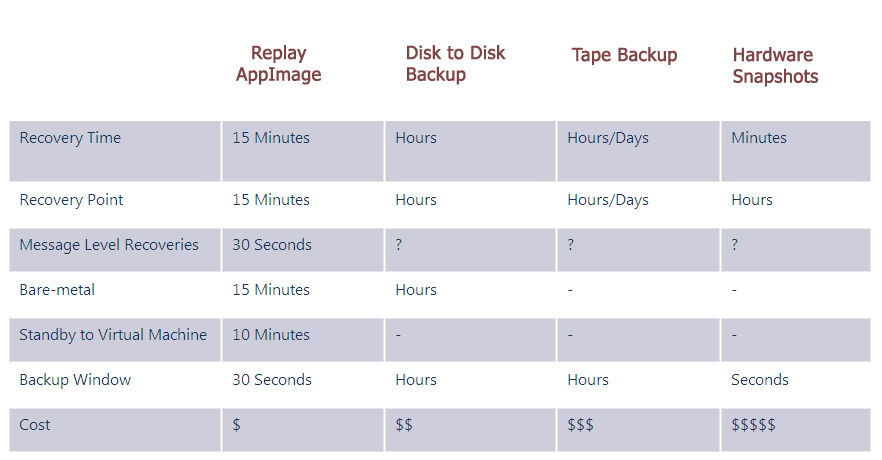 Finally, SQL backup and recovery that protects the entire environment efficiently and in one step, completely eliminating the granularity of backup schedules including system database, user database, and entire server.

SQL Recovery Assurance:
Replay AppImage™ is a real-time SQL server backup and recovery solution that does not interrupt production available during the backup process. It delivers incremental block-based image recovery points throughout the day and automatically tests each backup for SQL corruption. This assures that the backups are valid and will recover successfully. It also means no more restoring the database from tape and testing manually.
Why do I need it?
How does it Work?
Benefits
Modular Pricing to Suit your Needs
High Availability Add-ons
You've got one tough job
No matter how good you are at your job, circumstances beyond your control, user errors, hardware failures, power outages and bad patches, can all land you in the server room when everyone else is tucked in their beds.

What you need, what you DESERVE is a backup and recovery solution that represents just how good you are at what you do. That's why we created Replay AppImage. With killer RTOs and RPOs it's the application imaging solution you'd design if you weren't so busy ghting res 24x7. How do we know? Because before we created this product, we did your job.
Replay AppImage is an application-aware, disk-based imaging solution that automatically and continuously images your entire Windows application server delivering accelerated application backups and disaster recovery for Windows servers in minutes.

With Replay AppImage, when one of your users accidently deletes or loses an important e-mail, data store, or storage group, it takes only a few clicks to get the data back.

If the server fails, then just rewind to the last known good image.

To migrate to new hardware safely, just restore the image to a new server.
Eliminate Lost Productivity - Killer RTO & RPO.

Eliminate the backup window.

Continuous protection, point-in-time recoveries.

Server down-time dramatically reduced.

Allow users to access applications (including e-mail) during a live recovery.

Eliminate tape and tape Infrastructure.

Reduces disk space by 70% with built-in data de-dupe and compression.

Simple, set and forget backups.

Recover a message, le, database, storage group, or entire server from bare-metal in just a few clicks.
Low price per protected server.

Disaster Recovery and High Availability add-ons.

Application Pack for Exchange for lightning fast enterprise backup and recovery for your Exchange 2007 and Exchange 2003 environments including SCC and CCR clusters.

Blackberry Application Pack for non-stop BlackBerry availability.

SQL Pack for protection of mission-critical database servers.
Replay Application Standby (RAS) Mirrors the image of the protected server to another physical or virtual server in real-time. The images are continuously mirrored from the Replay server directly to a standby server in a secure and bandwidthe client way.

The standby server is an exact clone of the protected server, so in the event of an emergency, simply boot the standby server for full recovery.
What if you could design an Exchange backup solution to give you total peace of mind? What would it be?
Scalable to accommodate your e-mail growth?

Designed and supported by a community of Exchange engineers like you?
It's not that we're psychic. Our solution was founded by Exchange engineers who know what it takes to manage complex e-mail environments; they pooled all of their "what if's" and designed Replay for Exchange: a comprehensive solution for lightning fast backup and disaster recovery. Read More