Synergy Software Systems
P.O.Box 7780
303, Al Khaleej Building, Karama
Dubai, United Arab Emirates
Telephone:
+971 4 3374282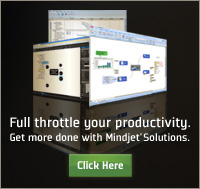 Mindjet - Brainstorming, and Visual Aid Mind Mapping Software Program
Mindjet Corporation is the leading provider of applications for mind mapping and interactive visual collaboration. Its award-winning products are revolutionizing the way people engage with information, ideas and each other.

From brainstorming to managing every detail of a huge project, Mindjet means better results, innovation, and measurable time savings. Shave days off your timetable and make every day, every task, every person on your team more effective.

With your clear path to success laid out visually, you can't help but move forward at a rapid pace, adjusting your plan as necessary, communicating freely with others, and moving steadily forward.
It's an interactive, visual diagram that looks like a tree with a main topic in the middle and as many sub-topics as you like exploding out in branches. Sub-branches can have mini-branches. The branches are easy to add or move. Information in a visual format makes it more memorable, gives it context, and unveils patterns and relationships that are difficult to see in a linear document.
Communicate your ideas to the world (or just your corner of it)
Mindjet MindManager 8
Mindjet JCVGantt
Mindjet Connect
Free your mind with Mindjet MindManager's highly interactive, visual application. Capture limitless ideas, data and knowledge to organize and provide focus to any task or project.
JCVGantt software provides an easy to use, yet powerful solution to track projects and tasks.
A new way to mind-share where anyone, from virtually anywhere can connect online to co-edit and share maps and other information in real-time over the web.