Synergy Software Systems
P.O.Box 7780
303, Al Khaleej Building, Karama
Dubai, United Arab Emirates
Telephone:
+971 4 3374282

Human Capital Management Solutions (HCM) :: AGroup - HRB

AGroup, a leading supplier of accounting and management software. Based upon its long-term experience both with multinational corporations and local companies, offers the software designed as a comprehensive solution of HR & Payroll Management.

HRB's Human Resource and Payroll is the system is designed to assist you in managing your company's most valuable asset - people. In fact, it is people who make your business successful.

HRB is a functionally comprehensive, stable, flexible and easy-to-manage software product that satisfies the current HRMS requirements. This multinational solution is intended for large and mid-range companies.

HRB 5 is a full scaled Human Capital Management system with a comprehensive set of tools for company strategic planning.
HRB 5 supports full life cycle management for both company organizational structure elements (planning-creation-transfer-abolishment) and employees (hiring-development-retention-retirement).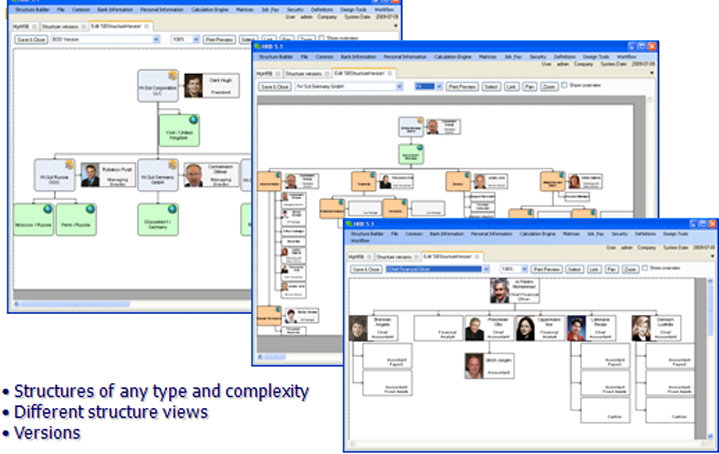 Simple wizards to create complex business procedures with multistage approval chains with configurable alerts, reminders, and notifications. This procedural approach makes the system easy to use, while minimizing errors and data inconsistency.
Overview
Technical Features
Organise
Staff
Evaluate
Motivate
Develop
Over 550 clients including major multinational: DHL, ADP, AIG, Phillips, Sony, City Group, Unilever, Marriot, Emaar etc.

Localized products used in 22 countries.

250,000+ employees on HRB® Payroll and HR solutions.

All industries: banking & finance, insurance, manufacturing, retail, hospitality, oil & gas, public sector.

Scalable - supporting organizations with up to 100,000 employees.

Products can be easily integrated with all mainstream business solutions such as Oracle, Sun Systems, Microsoft Dynamics AX etc.

Multi-lingual, multi-platform tools with end user oriented reporting & BI tools.
Service-Oriented Architecture (SOA).

Zero client deployment-lightweight WEB client for all functions.

.NET based Windows TM rich client for professional functions.

Great portability-multiplatform OS and RDBMS deployment.

Highly scalable-from stand alone installations to multi-tier deployment with load balancing.

Comprehensive data history tracking.

Integrated powerful reporting and ad-hoc querying tools, support export to Excel, PDF and other popular formats.
Create organizational structure-company units, positions and relations.

Manage reorganization-individual and mass restructuring.

Set and control company units budgets and metrics: e.g. full time equivalency (FTE).

Perform "what if" planning to determine the optimal company organizational structure.

Easy access to information at any organization level through configurable reports and ad-hoc tools.
Define and maintain staff requirements on the job, position and assignment levels in the form of requirement profiles.

Analyze and manage applicants across organizations, geographies, job families, job profiles and positions.

Manage the transition of any worker, from applicant to employee or contingent worker, with a configurable on-boarding process.

Manage workers' movement transactions within organization or across organizations including: positions, business roles, assignments, dismissals, transfers, leaves and absences.

Track worker profiles and full worker histories, comprehensive personal information, performance and competency evaluations, assignments, progression, compensation and benefits, leaves and absences.
HRB 5 enables you to leverage all the talents, skills, competencies and expertise of enter-prise workforce. Different evaluation models can be configured: competency based evaluation, management by objectives (MBO) or mixed.
Define requirements by level: jobs, job families, positions with pre-configured requirement profiles.

Configure review procedures, customize evaluation templates, with metrics for evaluation.

Track different types of employee reviews: disciplinary action, performance improvement plans and individual development plans, and ad-hoc appraisals.
HRB 5 allows you to manage your employee motivation through compensation plans and benefit programs, and to define employee eligibility for specific plans and programs.
Define and maintain grades, grade steps, progression ladders to manage employee progression paths.

Define and maintain compensation plans, benefit programs, eligibility rules on different levels: job family, job, grade, grade step, position.

Register employee work time and other metrics, on which compensation plans are based.

Calculate employee payroll, using powerful and highly parametersied, customizable payroll engine.
Manage your workforce improvement:
Track goals, personal profiles and define areas for employee development.

Manage training courses, training programs, training budgets, training sessions.

Collect and process training feedbacks and maintain trainings ratings .

Update searchable employee personal profiles based on training results.