Synergy Software Systems
P.O.Box 7780
303, Al Khaleej Building, Karama
Dubai, United Arab Emirates
Telephone:
+971 4 3374282
Fraxion Spend Management
Fraxion is a leading developer of Spend Management solutions.

Automate and simplify the way you request items, authorise costs and pay for goods with Fraxion's cloud Spend Management solution. Fraxion's procure-to-pay solution is fully mobile, user-friendly, enables unlimited document uploads, automates processes and can be deployed rapidly.

Manage Expense Claims, Travel, Capital Expenditure, General Procurement, Catalogues, Supplier Management, Invoice Management and Payments. Together the modules provide an integrated foundation for complete operating expense control, systematic compliance, risk management and policy enforcement as well as a platform for spend analysis.

Fraxion enforces escalating levels of approval and ensures that all expenditure is authorized before it is incurred, each transaction is approved, within budget and recorded.

The solution complements and extends the functionality of existing ERP or accounting software investments.

Enjoy the benefits of faster, mobile processes that deliver results and cost savings.

Access a summary of Fraxion's features and benefits in the link below

Fraxion_Spend_Management_PDF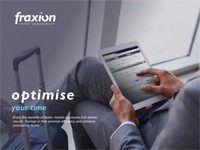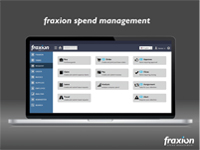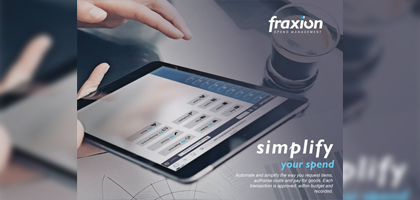 Fraxion Spend Management drives productivity on-the-go.

Give your employees the tools and freedom to work from anywhere, without losing financial control.

Access Fraxion using any mobile device and an Internet connection; pre-configured company policies will guide decision making and improve spending behaviour.

Capture expenses and supporting documents, request, approve and analyse on the road.

Fraxion empowers your employees to get more done in less time.
Benefits | Spend Management Technology

Technology driven solutions with high value returns:

Save Time and boost productivity through mobile remote access on smart devices.

Simplify processes and drive efficiency through automation.

Control your cash flow by authorising suppliers and enforcing policies and approval processes before costs are incurred.

Visibility: Fraxion provides visibility of how business funds are spent

Boost profitability by reducing operational expenditure

Analyze, forecast and identify trends with detailed reporting functionality

Manage risk through escalating approval levels and real-time budget views at decision points

Scale your business and protect your data in a secure cloud-based environment

User adoption achieved through simple, user-friendly technology

Integration: Fraxion integrates with existing ERP / accounting systems, unlocking further value from them and extending the functionality.
Control
Compliance
Visibility & Analysis
Functionality
Control operating costs and improve the bottom line:

Spend management is the way companies control and optimise the money they spend by cutting operating and other costs associated with doing business. Fraxion helps companies to achieve total cost management, long-term sustainable savings, valuable spending assessments and an increase in procurement efficiency.

Fraxion can assist you in reducing costs across a variety of indirect purchasing activities common to every business. The technology enables the affordable control of all operating and employee generated expenditure with end-to-end visibility and the tools to change spending behaviour.
Discover how to cut costs and spend less:
Enforce policy compliance and gain automated financial control by deploying Fraxion Spend Management.




All transactions are automatically routed according to the specified delegation of authority. Predetermined expenditure limits can be set, enabling the decentralisation of spend authority while maintaining absolute control.




Quoting policies enforce purchasing at the lowest prices and Active Policy Management exposes budget, risk, time or variance contraventions and flags non-compliance with organisational policy while quantifying the level of risk in requests.
Identify saving opportunities, track spending, analyse trends and forecast future spending with Fraxion's BI Tools.

Spend analysis reports display valuable insight into all operational spending activities. Gain visibility of expenditure at any transactional stage; drill down into suppliers, departments, employees and expense types. Transparency ultimately promotes accountability and responsible spending.

Configure company policies and approval hierarchies to eliminate maverick spend. Escalation ensures that spend and approval limits cannot be exceeded.

Make informed decisions and manage risk before approving or committing to spend. Point of decision analytics assist approvers to assess the risk in requests and make astute financial decisions.
Buy: Automate and simplify purchasing.
Fraxion electronically manages request creation, quoting, approvals, purchase order generation and the processing of invoices.

Claim: Streamline the submission of expense claims and ensure compliance with corporate policies while simplifying and speeding up reimbursement processes. Fraxion provides visibility of expenses and replaces paper-based requisitions with electronic documents and an efficient workflow.

Pay: Automate and control the entire accounts payable process, linking invoices to both orders and requests in order to easily approve invoices and eliminate overpayments and duplicate invoices.

Travel & Expenses: Automate and control the entire process for local and international travel:
from request creation through to the processing of invoices, the generation of travel itineraries, acknowledgement of travel and expenses incurred and the processing of invoices against travel costs.

Supplier Management: Manage risk by effectively controlling supplier take-on.
Fraxion assists you in establishing a centrally managed supplier directory by streamlining supplier take-on and qualification steps..

Cash Advances: Manage cash disbursements with detailed tracking to projects, budgets or funders with complete audit trails.
Fraxion's Cash Advances module can be used as a petty cash function or for more complex, higher value pay-outs where more detailed reconciliation is required.

Catalogues: Give your employees access to relevant products from approved suppliers via Fraxion's catalogue module.
Users can select catalogue items from any combination of suppliers within a single requisition and manage the process of creating supplier specific purchase orders once requests have been approved.

Contracts: A central repository with on demand access to applicable information: Fraxion's contract module provides a secure storage platform with alerts and administration features to streamline your contract management requirements and obligations.

Capital Expenditure: Mitigate the risk associated with Capex purchasing through embedded controls that enforce spending policies and approval processes.
Fraxion enables capturing, saving and access to all mandatory fixed asset information.