Synergy Software Systems
P.O.Box 7780
303, Al Khaleej Building, Karama
Dubai, United Arab Emirates
Telephone:
+971 4 3374282

INFOR PM - PERFORMANCE MANAGEMENT
Used by more than 14,000 customers worldwide.
Implemented in more than 100 countries.
Available in multiple languages.
Developed with 30+ years' industry domain expertise.
Supported by a dedicated global support staff.
Based on open standards.
Supporting lower total cost of ownership.
The speed, complexity, and global nature of business today presents challenges for even the best-managed organizations. To adapt to this constantly changing environment, companies require broad, deep access to critical information in real time. They need cross-departmental, Integrated views of operational and financial drivers and results to support company-wide collaboration, enabling them to harness the best thinking possible no matter where in the company or the world it originates. They must gain firm control over their financial reporting and disclosure processes to provide more information faster to satisfy the requirements of regulators, shareholders, and other stakeholders.
Infor PM delivers these capabilities as three core components:
Infor PM Business Process Applications (BPAs):
BPAs help companies streamline and improve the effectiveness of their strategic management, planning, budgeting, forecasting, financial consolidation, and financial reporting processes.
Infor PM Business Specific Analytics (BSAs):
BSAs enable enterprising organizations to monitor key business specific performance indicators in real time to support effective decision-making.
Infor Expense Management:
Expense Management solutions help companies gain control of corporate-wide expense-related processes including travel planning, expense reporting and reimbursement, vendor payment requests, and time capture and billing.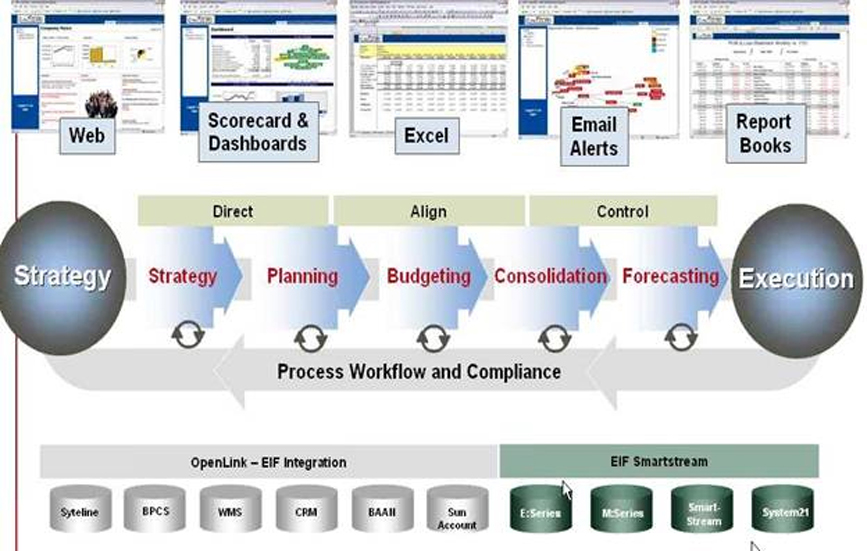 These solutions are built on Infor's powerful Enterprise Information Foundation, an advanced infrastructure/integration layer that enables the management of financial and operational data, metadata, master data, and process integration. Combined with Infor Open SOA (Service-Oriented Architecture), this technology makes it possible for companies to leverage rather than replace existing technology systems and enterprise applications.

They direct the focus and actions of the organization through strategic management. They align resources with corporate objectives through financial and operational planning, flexible budgeting, and realistic forecasting. They monitor and control performance with meaningful reporting and analysis that leads to improved decision-making. Consider how the following solutions can help your enterprising company build a better business.