Synergy Software Systems
P.O.Box 7780
303, Al Khaleej Building, Karama
Dubai, United Arab Emirates
Telephone:
+971 4 3374282

Analytics for Microsoft Dynamics (Zap Technology)
Zap creates business intelligence (BI) software that helps improve corporate performance. Committed to innovation, Zap was awarded the 2009 Microsoft Independent Software Vendor/Software Solutions Innovation Partner of the Year. Zap software is used by mid-market companies through to enterprises, across many industries and business systems. Zap also offers a range of out-of-the-box solutions specifically for Microsoft Dynamics Business Solutions that fast track the return on investment in BI technology.




Business Analytics for Microsoft Dynamics AX is a packaged solution that

enables business users to create web-based dashboards, Key Performance Indicators (KPIs), scorecards, management reports, and ad-hoc analyses

on their Microsoft Dynamics data –

without needing IT support.

Business Analytics is a packaged solution so you can take a

"buy, not build" approach to analytics.

We provide everything you need to get up and running immediately.
Instant Analytics
Run ERP analysis with an out-of-the-box solution.

A wizard to automatically import your customizations and security.

Rapid deployment enables a fast return on investment from the solution.

A user-friendly web interface that requires no software installation for end-users.
Benefits to your Business
Improve Performance: Perform in-depth analysis of your business to understand which areas are performing and profitable, which aren't, and what the trends are.

Improve Productivity: Empower your staff to create advanced, insightful analyses and reports to aid better decision-making.

Improve Reporting: Reduce reporting cycles and manual processes, improve reporting accuracy, and empower finance leaders to interpret finance data provide strategic advice back to the business as the most valuable part of their job.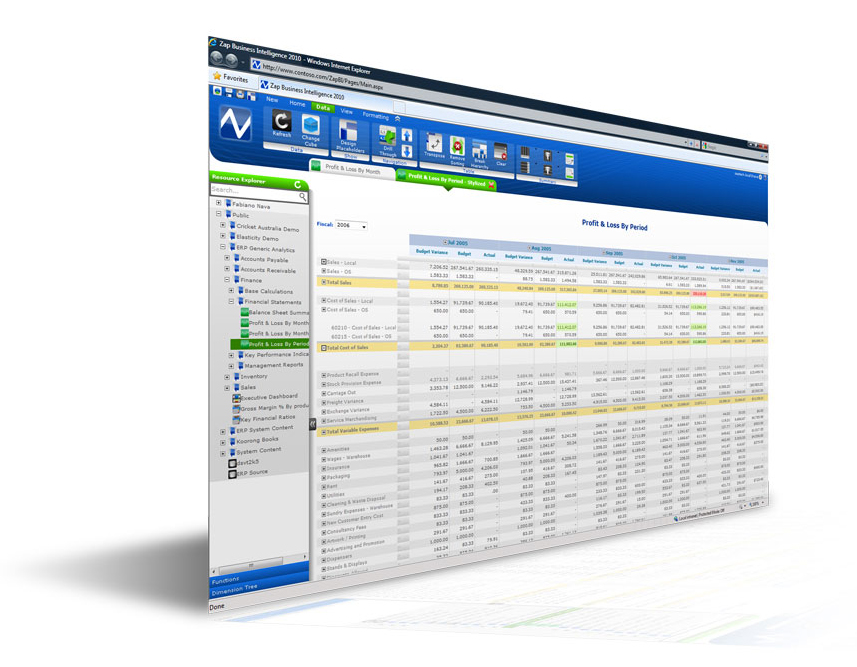 Business Analytics for Microsoft Dynamics CRM is an

out-of-the-box analytics solution

that turns your CRM transactions into insight, empowering employees to improve performance. Enhance decision-making and performance management with business intelligence (BI) capabilities such as

dashboards, key performance indicators (KPIs), scorecards, reports, analysis, and alerts.
Rapid ROI
Business Analytics delivers a rapid return on investment (ROI). Deployment is fast, instant value is provided to end users, and it's easy to make rapid efficiency gains. Costs for ongoing maintenance and change management are minimal, adding to a low total cost of ownership.
Instant Visibility
Put performance information in the hands of your business users with pre-built analytics that give you instant visibility from day one of your rollout. Even the most remote employees can gain instant access using a web browser. The interface has a familiar Microsoft feel, and users can create their own analytics easily, without needing technical help. Instead of searching through endless reports to find crucial information, use rules, alerts, and exception reporting for immediate notification about changes in performance.
Everyday Usability
The drag and drop web interface is fast and intuitive, and users never touch code or rely on developers to create analytics. It's easy to create your own custom analytics, without the resource intensiveness typically associated with BI. The solution even comes packaged with out-of-the-box analytics to give you a head start, providing users with analytics from day one of your implementation.
Instant Customizations
Business Analytics provides a rapid, low-risk deployment, no matter how much you've customized Microsoft Dynamics CRM. Our wizard-driven technology fast tracks the solution set up and makes it easy to import customizations on an ongoing basis, even for entire xRM solutions.
A Single, Complete Solution
Unlike many alternatives, Business Analytics is a single, integrated solution to meet all your business intelligence needs – dashboards, reports, charts, analysis, key performance indicators (KPIs), scorecards, alerts, and business templates are in a single solution with a single interface. You only maintain and train one application – which ensures a low total cost of ownership and maximum productivity.
Extreme Flexibility to Adapt the Solution to your needs
Business Analytics is powerful and flexible. Whether you want to extend analytics to other non-Dynamics business systems, or customize the help when you add new capabilities, it's all possible.